A Cape Breton, Nova Scotia bald eagle soars overhead looking for a quick fish dinner.
Welcome to the North Quabbin Photography page. I hope you enjoy the photographs and come back again. New photos added almost daily. Click on any category above to view photos and "prev/next" below to move along or go back while viewing the photos. To see them all at once click "show thumbnails".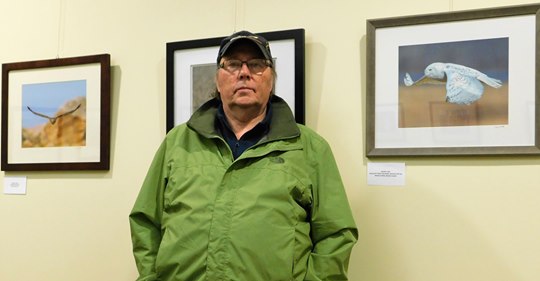 Welcome to my page. Hang around and come back often. I add new photos to the NEW PHOTOS page every other day or so.
I have a photograph featured in the Massachusetts State Library from June 3rd until August 30th called "The Natural Beauty of Massachusetts Waterways" at the State Library in Boston, MA….
I have 8 beaver images being used on 4 of these information boards at a beaver exhibit at the Ljubljana ZOO in Ljubljana, Slovenia in Europe. Theres 3 on this particular board. Cool beans huh !
Logan International Airport.
This is a photo I took of a New Salem Sunrise that is used by the North Quabbin Chamber of Commerce in Athol MA. Pictured (L to R) with me in front of my photo on the ad are Mark Wright, Congressman Jim McGovern, ME, and Mia Haringstad. This photo is located in Terminal B at Logan....4/10/15
Former President of the MA Senate Stan Rosenberg saw the photo thats on display at Logan International Airport in Terminal B and wanted to buy one. I presented it to him and it hung in the Massachusetts State House while he was in office !
One of the many swamps on the Quabbin watershed. You don't realize how much life there is in one of these ponds until you sit for a couple hours and just watch the world go by. 8/20/15
My home away from home ! Cape Breton Island, Nova Scotia, Canada
Gone to Cape Breton !
Here's my camera in Nova Scotia, Canada on Cape Breton Island .
White Point, Cape Breton Island, Nova Scotia, Canada
Next to Quabbin this place is the cats meow !
Here's a photo taken of me and the Nikkor 200-500mm f/5.6E ED VR lens and my trusty Nikon D810 camera.
Call the Quabbin Visitor Center at 413-323-7221 for more info about the Quabbin, including rules. Copy and past the following URL to your browser to view a short film about Quabbin I was involved in when I worked as an interpreter there at the Visitor Center.
https://www.youtube.com/watch?v=CE4Q5LOK2ec
Here's a family portrait. I am alway in good company with helpers in here at my desk working on my computer or running my ham radios.
my good friend Ed Bennett
Ed Bennett passed away in June of 2015 at age 74. I took this picture shortly after we met in 1978. His wife Paula is standing behind him. Ed loved the Quabbin and he and I spent thousands of hours hiking and watching eagles at the Quabbin. I will miss him a lot. 7/4/15