The Prescott bull wore a radio collar for 2006 and 2007. His where abouts not known until I shot these photos last fall....
Here his is munching on Mountain Laurel. Not a moose favorite. They need 50 pounds of leaves and bark a day to survive.
The blue tag in the ear just above his antler helps to identity him from a distance now he no longer wears his radio collar.
Another way to identify him is his antlers. They don't quite match do they?
Thats him again 6 days after I took the first four photos you have just seen. He has shed his antlers for the year.
Here's a young bull in August working on some tasty pond lillies right up to his neck in a small beaver pond.
Submerging like this in the hot summer months keep them cool and it keeps the biting insects away for a while.
" Will they be surprised when I come up their access tunnel for a visit"
Stop !
A female moose was standing in the road and didn't seem to want to leave. 7/13/15
Can you see me now?
A bull moose gets an early breakfast in a Quabbin Pond…… 7/13/15
Last week this guy saw me and bolted into the woods in a small pond in northern Quabbin. He won !….. Today I turned the tide on him. I parked 200 yards away from the pond at 5:45AM and snuck up taking a chance he was in the pond. He was... After 30 minutes he finally saw me. Here is that moment. I won today !!
Nothing like spotting a young bull moose early in the morning! Even if he is wayyyyy out in the back of a swamp. 7/21/16
Female moose
I found this female moose munching on maple leaves real early one morning along the side of a big beaver swamp. I had to push the settings in the camera to get a decent picture. 9/9/15
Roadrunner !!
Today I saw three moose. This young one I spooked this morning feeding along the side of a swamp with its mom. I had never seen them in that area before and they caught me by surprise as I walked up the road. The female went into the woods and I didn't see this young one still there. Finally it shot into the road in front of me ran about 30 yards up the road and into the woods. 9/7/15
Bye
"and here I go into the woods to find mommy!"
Huh ??
After spending almost a week with 8 different moose, today after 3 hours of searching and setting in a few places, I came away without seeing a one. As I walked back to my vehicle I found this taped to a tree... :)
As I was set up alongside a field this morning, this bull moose came crashing out of the woods running right along. It ran about 100 yards, stopped, sniffed, looked around and ran off. I saw him again about an hour later. I also saw him on Monday about the same place as today. 11/5/15
Buddies !
I saw both these moose a few days ago at 2 different spots. This morning I spotted the larger racked one running across the field (see last photo) and an hour later they were hanging out together. I suspect they were talking about the Red Sox's chances next year, 11/5/15
An old friend I came upon this morning!
I saw and photographed this bull last December. He has a strange antler and a blue tag in his ear. I found him this morning standing by the side off the road and he just kind of said "Hi Dale, hows it going" with his eyes and didn't move while I took his picture ! 11/3/15
Same moose as last picture with his ear tag
Here is his ear tag. Mass wildlife had a tracking collar on him in 2006 and 2007. They told me he would be about 11 or 12 years old now. I notified them I found him again.... 11/3/15
A good way to start the foggy day !! 7/12/16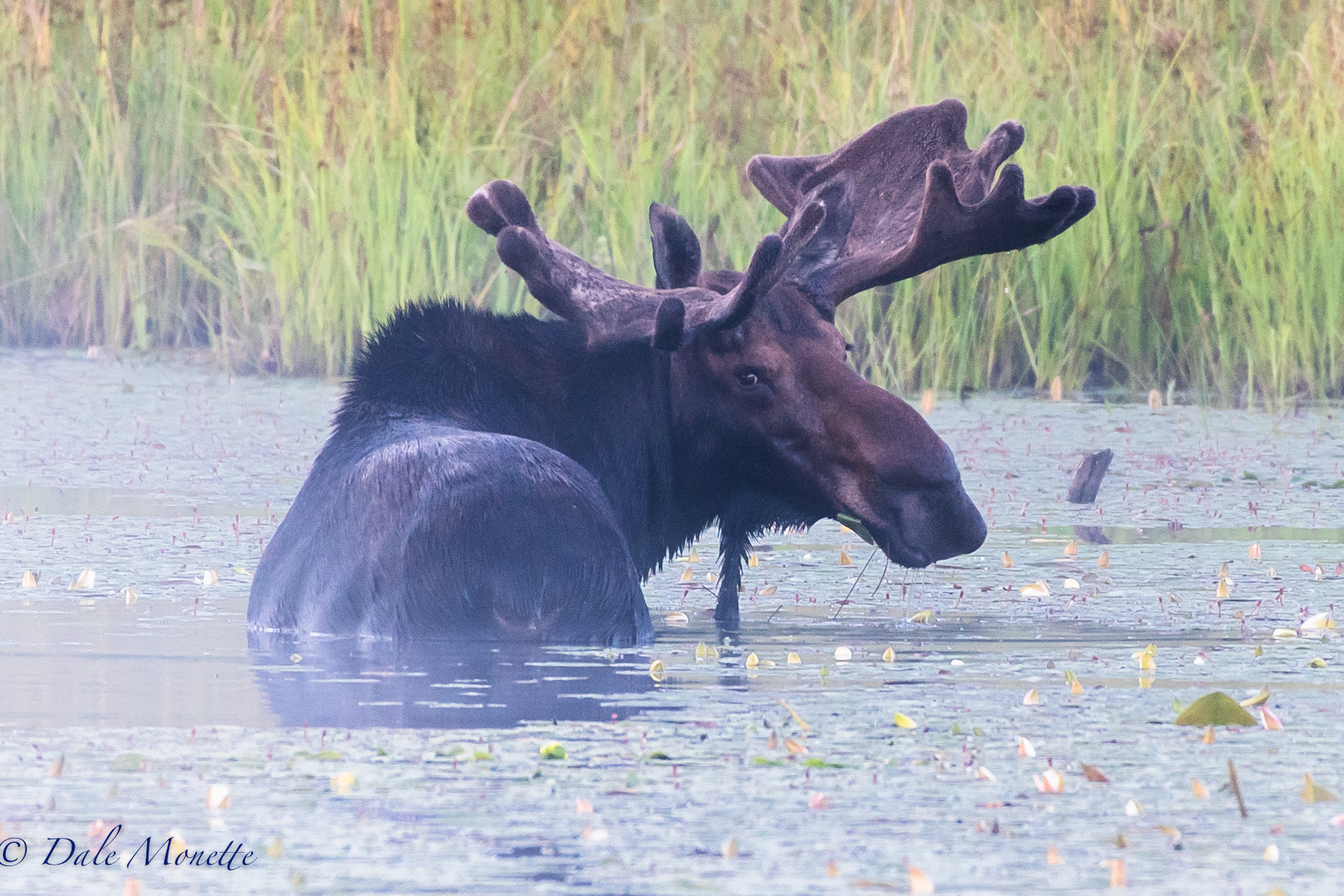 I see you, again..... Quabbin Reservoir watershed. 7/12/16
Today was a seven moose day ! Heres two thinking "who ta hell is that?" 11/2/15
Well Well ... !! My Fourth of July got off to a big bang at 5:15 this morning almost in my back yard. !! This is the 3rd year in a row I have seen this guy in the same spot..... I spent 45 minutes watching him feed before he drifted up into the woods. 7/4/16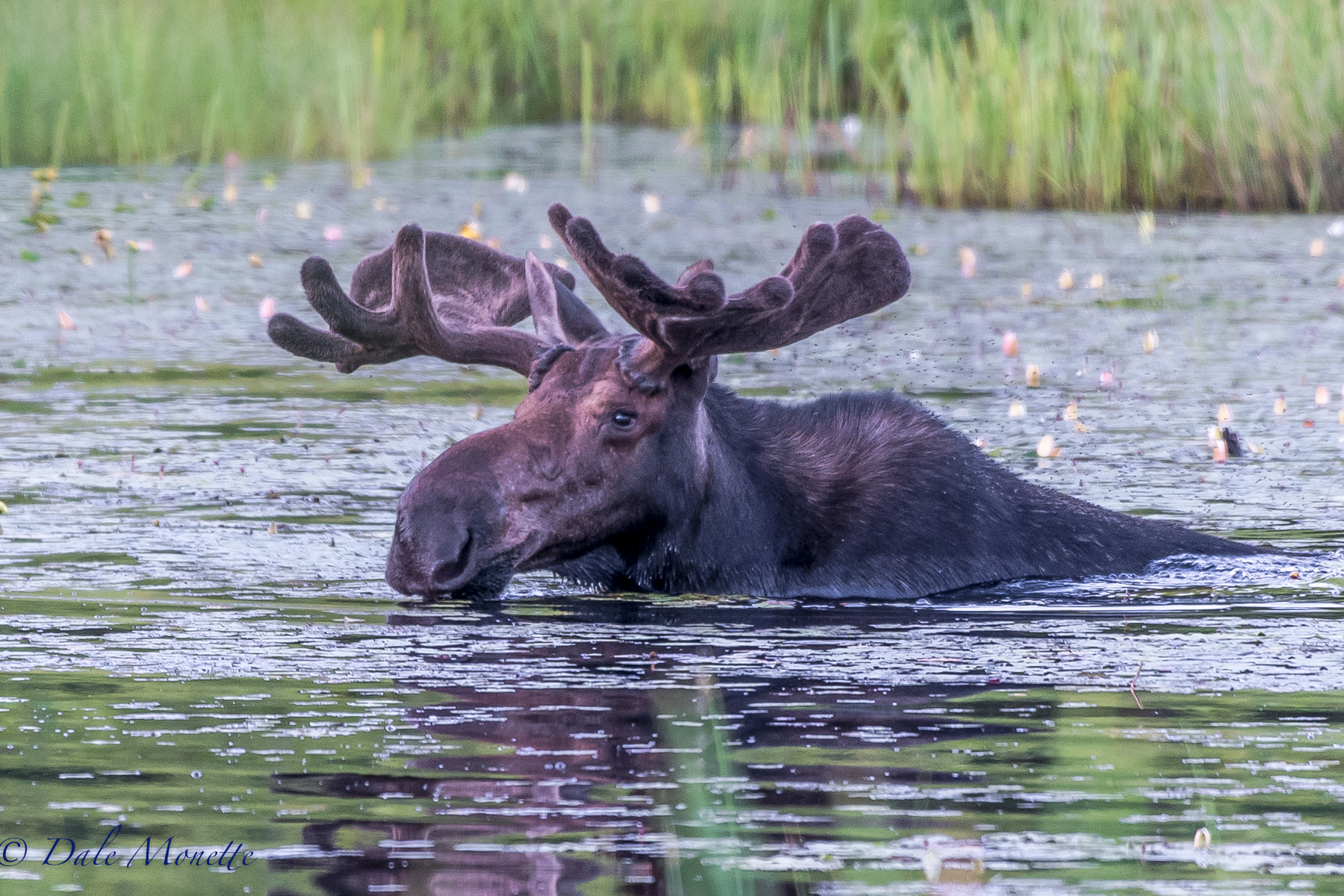 Heres the same moose as the last photo. Notice the deer flies trailing behind his head. Thats why moose love to get into ponds up to their necks sometimes. To cool off and as a relief from biting insects. 7/4/16
well well !! Look who tromped right through the other side on my swamp today !!...... A young bull moose looking pretty ratty while shedding his winter coat. You can see his new antlers already starting. He didnt hang around long..... 5/9/16
A young bull moose was standing along the roadside. I thought he may be thumbing, or hoofing a ride, but I was wrong. 11/2/15
A spike horn bull moose. You have to look hard to see the antlers.
Sometimes its really good to own a 500mm lens !
The end..........
I love this time of year. Especially the cool weather because the moose start looking for love !! This one was in a dry swamp I checked this morning. I was surprised to see it had a small one with it I couldn't get a picture of. Notice the fur standing up on her back? I was glad she was 100 yards away and I had a telephoto lens !
This morning I watched a female moose with a young in tow browse in an abandoned apple orchard at Quabbin. A great way to start off the week ! 11/7/17
For the 3rd year in a row I've bumped into this moose at Quabbin. He's got a very distinct pair of antlers. Masswildlife had a radio collar on him in 2007 and they told me he could now be 12 or 13 years old. He was 1/2 mile from where I saw him last year and 5 miles from where I saw him in 2014. 11/9/16
In the last 2 weeks I drove 2516 miles to the Canadian Maritimes and back. One of the main reasons was to photograph moose. I didn't see any due to a number of circumstances. So now I'm home, I drive 7 miles, walked 200 yards to the field and there they are !! Two nice bulls browsing away !
Well, I walked further for a few miles from the orchard and this gal jumped out of the bushes in front of me !! Lets have a hand for telephoto lenses ..... 11/7/16
You never know whats going to appear at Quabbin !! I spotted this handsome guy standing off the trail in the woods watching me. I waited about 15 minutes just standing in the trail. He finally started wandering along thinking I was not a threat and came right out into the trail....then started walking right towards me !
"Ma, theres someone following us".
This young bull moose will never sneak up on anyone! I heard him slopping 10 minutes before I saw him this morning! 5/10/18
One of the three white tailed deer I see occasionally in a certain swamp. She was onto me here !.... great gentile animals to watch when they are going about their life. Especially with other deer. 7/1/16
You never know what and when something really cool will appear at the Quabbin Reservoir! 11/25/15
Who's watching who ?
Have breakfast with friends !
Two does and a buck white tailed deer are munching on swamp grasses and pond lilies early this morning. They hung around for 45 minutes before wandering back into the woods. Last week moose, this week deer..... 6/27/16
Surprise !
I saw this doe come out to eat along the shore today and have seen here a couple times before. She kept looking into the woods. Finally I saw a fawn in the woods as I suspected. I didn't notice the green heron in the pond until I was home looking at the pictures on my computer! 7/22//15
Do as I do !
Finally this doe brought her fawn to the water instead of leaving it in the woods. This is the 4th time I've seen them in the last two weeks at the heron/beaver pond. 8/3/15
White tailed doe
Every few days when Im taking heron photos a white tailed deer or two will pop out along the shore and spend some time eating the lily pads and water lilys.
Early morning breakfast
Today this doe arrived without her fawn, or maybe this is a different doe than usually visits early in the morning. But then again maybe it was up in the woods. 8/13/15
After sitting for 3 hours in the woods near gate 29 this neat 7 point buck came sauntering by like it didn't have a care in the world.... 11/17/15
I spend hours standing in one place just watching and waiting. This morning after 90 minutes I turned around and moved about 20 feet. This doe jumped up from about 30 feet to my left and scared the crap out of me. She then stopped turned around and started slowly walking towards me ! 8/5/16
I saw this white tailed deer this morning as I snuck up in darkness to the edge of a large field I have seen moose in. As morning light got brighter this guy seemed to come closer and closer to me. I took about 35 photos before he wandered off into the woods. 10/29/16
White Tailed Deer
Here is a female (doe) in her sleek mid summer brown coat feeding on some nice green leaves.
These twigs dropped in the road and made easy acorn eating for this young deer early in the morning.
It turned out to be a young spike horn buck. A few minutes down the road I spotted him 20 feet from me in a flower patch.
Same deer as the last shot, different angel.
I was perched on a ridge when this ten point buck wandered in front of me in the late fall.
I spent Thanksgiving morning in the silence of the woods of the Quabbin from 6:30 until 10. This guy popped up at about 9:00. A nice siting for sure. 8 Points. I hope he avoids the Quabbin deer hunt in a few weeks ! 11/23/16
Five white-tailed deer walked out in front of me this morning at 6:30AM on my way into Quabbin. It was a pleasant surprise. I just stood there and snapped a few pictures. They spotted me but didnt leave and just kept moseying along and headed into the woods. 4/2/17
Here are 3 of the 5 deer I saw this morning at dawn in the Quabbin. 4/2/17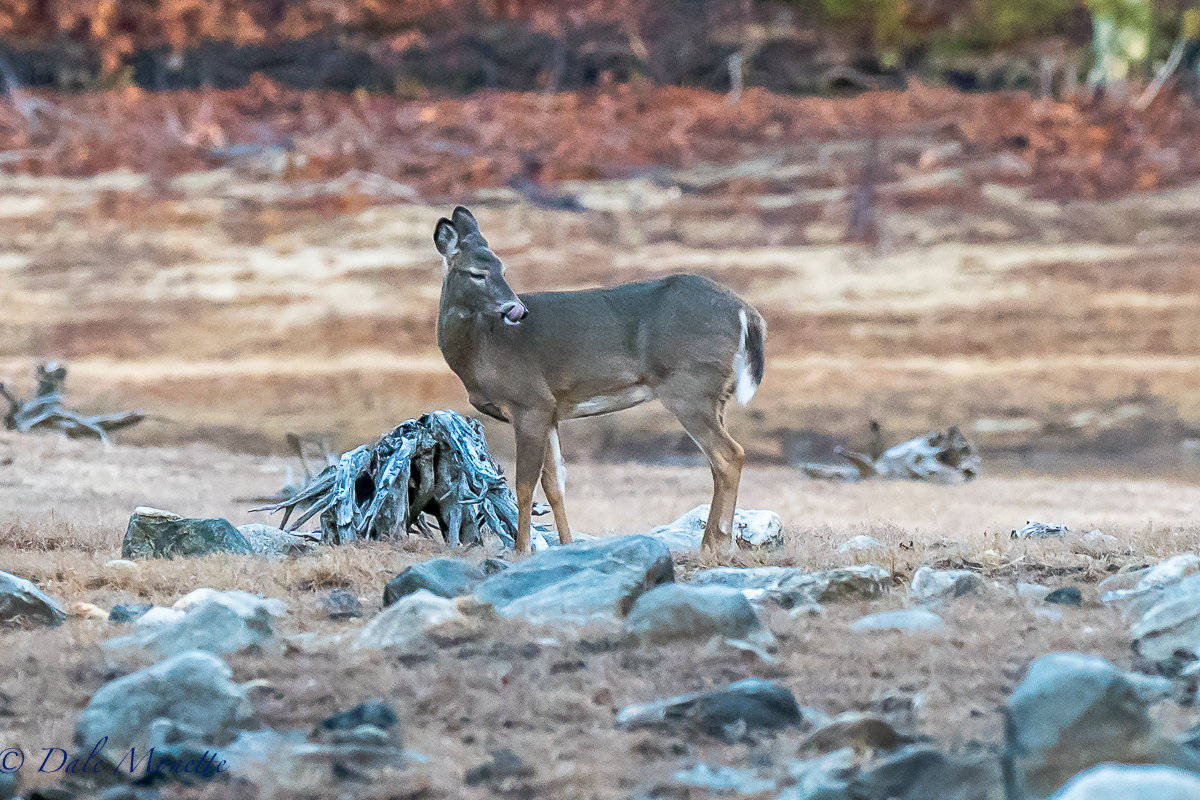 I came upon 3 more deer today, same place as I saw 5 last weekend. The wind was with me and they never saw me. After about ten minutes they wandered into the woods to get away from the nasty wind. 4/8/17
After spending about 3 hours in 2 different beaver ponds this morning this beast of a white tailed deer came out to feed on swamp grass and lily pads. I think this may be an eleven point buck ! 7/3/17
Here's another image from a different angle so you can see this beautiful monster rack !!
These same two bucks came back out for fresh greens for breakfast early this morning. This is the second day this week I have seen them. A few days ago they had a third one with them 7/20/17
A few years ago in this same pond I was taking a picture of a heron and an otter popped up. Today in this same pond I had my sights on another great blue heron along the back shore of the pond and a pair of white-tailed does popped out of the woods ! The heron kept right on preening... 7/29/17
"Will you quit munchin ?? !!, there's someone over there watching us, get ready to beat it!" 7/17/17
I spotted these 3 fawns all loafing in the sum this morning in a backyard in Athol. They were acting just like tame deer until a dog came down the road ! 8/6/17
Speaking of deer, for a minute I thought my lens was broken and I was seeing five of everything!!
Last week I caught this 1.5 year old white-tailed buck looking for love in the rain ! :) He was oblivious to me and strolled along with his nose in the air sniffing away to beat the band !
This young doe walked out in front of me on Thanksgiving with not a care in the world. She let me take photos of her and then walked into the woods and disappeared like she appeared!
Finally !!! I got out into the Quabbin and this doe greeted me and then disappeared into thin air...
These same 2 bucks keep showing up every morning at the same time in the same place. I love watching them...... 7/23/17
This white tailed doe came out just up the shore from me this morning. I was pretty well hidden as you can see, she didnt see me.....
This white tailed fawn belongs to the previous pictured doe.... it still looks like a baby!
A doe came putting along down the shoreline this morning. Right behind her was this guy ! I kind of figured there may be a buck around seeing I heard one snort in the woods about 90 minutes earlier.
White tailed deer
I had two visitors at the heron pond this morning while watching the great blue heron catch his breakfast at 6AM. 6/30/15
I spotted this white-tailed buck looking at me from across the pond early this morning. What a beautyr he will be !
A white tailed doe took a few bounces to cross the trail I was walking on……you can see why they call them "white-tailed deer.
It was just getting light when this doe came out just up from where I was sitting in the woods in Petersham. You can see her fur has started to turn a different shade of brown/gray of their winter coat.
All was quiet and watching this white-tailed doe amble the shoreline.......... 20 seconds of sun through the cloud opening.... "click"......... never see this again in my lifetime.....
Today, early in the fog I came upon a doe and two fawns. I was able to watch and photography them for almost an hour as the fog dissipated and the conditions got much better as they got close to me.
This fawn was playing "jumping bean" and every once in a while would jump all around. It was quite entertaining!
This doe was wandering the shoreline at 5:45 in the morning….
I played a hunch this morning and decided to leave the beavers alone and go to a place I haven't been in 2 years. and Bingo ! 200 yards up the trail and I spotted this guy behind some bushes, all of a sudden he popped out to say Hello ! He looks pretty ratty because he's shedding his winter coat.
You can see from this image that this is a bull moose. He is just starting to grow his antlers for the fall mating season. Some moose can grow antlers up to 35 pounds !