An adult kingbird lines up the kids for bugs, and blueberries…
like I said…and blueberries!
Every now and then I will find an image I overlooked. Here is ones such shot from last week. This female red-winged blackbird flew into a dead bush a ways from me and started clucking, which caught my attention. I just looked at those images this evening and found this.
I must say, I've seen lots of beavers in my lifetime but never seen one with big ears like this one... I should have hung around to see how it was going to fit in that lodge…
Busy as a beaver !
This pair of beavers picked one of 4 older lodges in this particular pond to resurrect . They could be family members from the same clan or a new pair of 2 year olds setting up their own family. Click the white arrow to play the video
If you take your friend out to breakfast, take them down by the pond for leaves. It's cheaper :).

A good place to stay cool !
July 4th pal.......He just stood there and watched me go, as long as I kept going he didn't move, I was able to take 2 images when I first spotted him watching me....
Yummy, breakfast !
I found this female moose in a large field this morning, 7/4/19. It took a while for her to realize I was not a threat. I felt sorry for her because of all the deer flies buzzing her big ears.
I found these 2 moose in a swamp this morning while it was still quite dark. A mother and it looks like moose from last year still with her. Can you spot the beaver ?
The mountain laurel in north central Massachusetts this year is awesome!
Water Lily, I know not what kind!
A 2 month old wood duck chick came wandering along the shore looking for mom and it's brother and sisters, which it finally found….
Here are a few razor billed auks in an image taken last week off of the Bird Islands on the shore of Cape Breton Island. These birds are related to penguins and only come to land to nest and raise the young. Then they fly back out to sea. Sharp looking birds :)
I'm just back from Cape Breton, Nova Scotia and heres a neat eagle image I was lucky enough to make last week in St Anns Bay….
White Point, Cape Breton Island, Nova Scotia. 6/18/19
A bald eagle snatched up this fish that was thrown into the water from a boat that I was on yesterday in St. Anns Bay off of Cape Breton Island, Nova Scotia. I had my 300mm lens on, thus the large image size. It was great fun…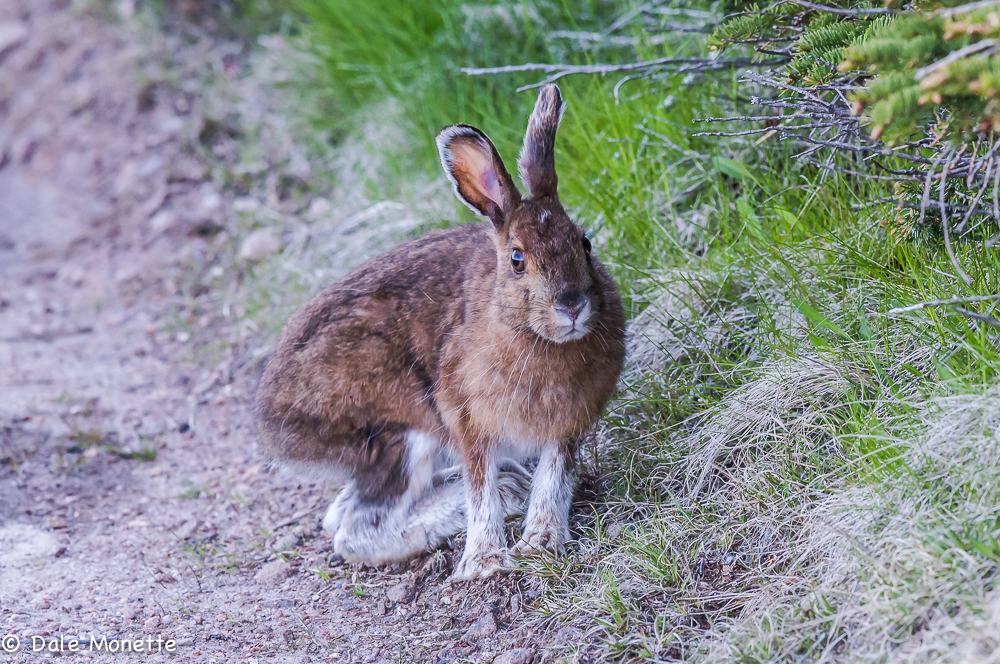 I found this snowshoe hare feeding along side a hiking trail yesterday You can see he still has some white fur in his coat as they turn white in the winter. Check out his big feet!
This morning in the rain on Cape Breton Island, Canada I had this HUGE black bear appear magically in front of me on the trail. He took one look and ran a ways into the woods and then just stared at me for about 5 minutes. I wondered if he thought I didn't have had enough meat on my bones!… He left….
This beaver was eating water Lillies this morning before he hit the lodge for the day. He cleaned out one full patch in the pond You can see the stem of the one he just finished to the right.
All in 8 days, these great blue herons built a new nest, mated, and in the process of laying eggs. Still a little building to do. Its going to be a close call if these guys can fledge chicks. The chicks will have a challenge to have enough time to gain enough strength to migrate this fall. Great dissipating fog this morning in the swamps. Did I mention mosquitoes??
Let's have a big YAY for Mrs. Wood Duck !
I spotted this batch this morning at about 7:15AM. They were coming out close to the shore amongst the bushes and if you look closely you can see the egg tooth on the beak on some of the ducklings. This helps the bird crack thru the egg shell to get out easier. These usually fall off within hours of hatching out. I'll bet these guys hatched yesterday and have not been bobbing in the water to long! It made my day...... :)
A late nesting great blue heron pair works soon getting up a new nest. The male brings in the sticks and the female places them where she wants them, and this goes on over and over for 3 to 4 days until she is ready for eggs.
The white-tailed bucks are just starting to grow their antlers right now. Here is a buck who was with another buck and a doe feeding along a beaver pond in the Petersham area yesterday early in the morning. Notice that he is still shedding his winter grayish fur. In a few weeks he will be a reddish brown.
One of my favorite birds. The bubbly bobolink just going crazy with song in the rising sun.
For some reason beavers are liking this spot to stop and feed for a few minutes. Here is a great shot of what a beaver tail looks like if you've never seen one close.
A quick hike in the rain into a favorite beaver pond this morning produced this guy eating a snack before retiring to the lodge today.
I watched this muskrat feeding in a small pond this morning. I was amazed to see how much it ate. I kept checking on it to see if it had stopped which it did after 2 hours.
Today was hatch day for the local great blue herons. I'm not sure how many but they hatched sometime within the last 24 hours. I won't know for a few weeks until I see heads popping up how many chicks they have. Great blues Usually produce between 2 or 3 chicks.
I guess this rough-winged swallow wasn't to happy to see me taking its picture!
The first sunny day we've had and the eastern painted turtles are out in droves (whats a drove?)…… 19, count them!
That awkward moment when you realize you took the wrong turn over New Jersey while migrating north and ended up in the wrong pond.
This female Canada Goose spent all night on the nest and probably has 26 for 27 more nights to go. It was quite dark this morning when I hiked in to check on them. She was aware of me but didn't move at all. I took a couple shots at about 40 to 50 yards away with my 500mm telephoto lens and left as soon as possible without her moving….perfect !
The ice finally left the local ponds for the most part. The first thing I saw was this otter that seen this same guy for about 5 years in the same pond. He has a light blond patch of hair on the right side. You can see him last spring at the end of this sequence of images.
I was given a tip about these 10 rare Sandhill Cranes today. They were in a large swamp/bog in Royalston MA. A pair of bald eagles also live in this large swamp. They left at about 1:30 and headed dead north on their way migrating. A great sight.
I spent the morning with this great snowy owl on the coast of Rhode Island on a tip from a friend. It was awesome, at least I thought so, maybe the owl wasn't so enthusiastic !
I could not resist taking photographs of these two cows at one of my friends farm as they walked over for a visit…..
Yay !! This is one of only 411 right whales left in the world. I took this photo last summer. Last week a newborn calf was spotted off go the coast of Georgia …the first calf in 2 years discovered…so I say YAY !!
New Salem Lookout, summer. 2017
Quabbin Reservoir is at 100% capacity……..
A great day at the Quabbin, although a bit windy, it kept the bugs away!
This bumble bee was taking his time with this flower so I tried out my new Nikon 60mm micro lens.. what do ya think?
Yellow swallowtail feeding on the milkweed outside my office window!
This is a picture I took in Hadley, MA in winter of 1984 of a great gray owl. Little did I know I wouldn't see another one until 2016. This was a slide I scanned of the 1984 owl with the Nikon ES-2 slide digitizer…. what a great invention by Nikon !
Quabbin Valley moon over New Salem. 4/11/17
A Quabbin octopus...... getting ready for the deep freeze.