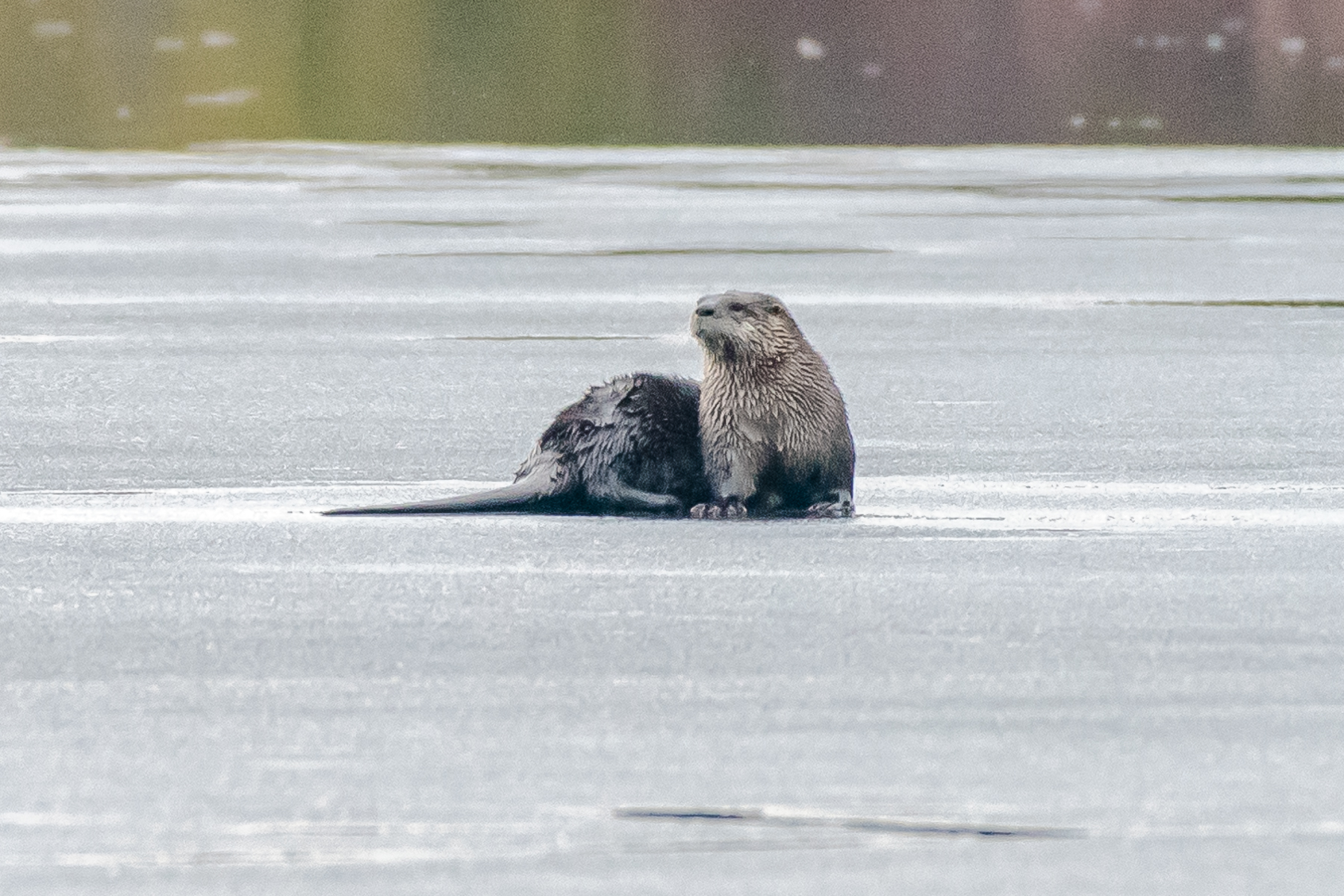 River Otters
Here is a page of and about otters. Male otters can grow to be 50 pounds and with their tail can be 5 feet in length. Females are smaller. Families stay together for 2 years after the kits are born in the early spring. The kits are born blind and can not swim. The parents teach them to swim by dragging them into the water and forcing them to swim.
Five river otters magically appeared while I was sitting at the end of a swamp in the Quabbin. I watched them tear the place up for 90 minutes catching fish and playing. They also came out of the water to mark their territory 3 times in the 90 minutes. 4/23/16
Here are 3 of the 5 leaving the woods after rolling around in the grass and marking it with their scent. After 90 minutes the mysteriously disappeared, like they appeared ! 4/23/16
This otter popped up on the stump I usually see great blue and green herons fish from in the summer. He polished off a horn pout and left.
This otter invited me to breakfast. Luck for him I dont like sushi. All the more for him. At least he offered....
A close look at the faces of the river otters, cute huh?
I spotted these two river otters feeding on fish early this morning in one of my favorite ponds. As I was watching one up popped the other with a fish and shook it very vigorously ...... 2/26/16
Pals
And then there were two eating fish for breakfast! 2/26/16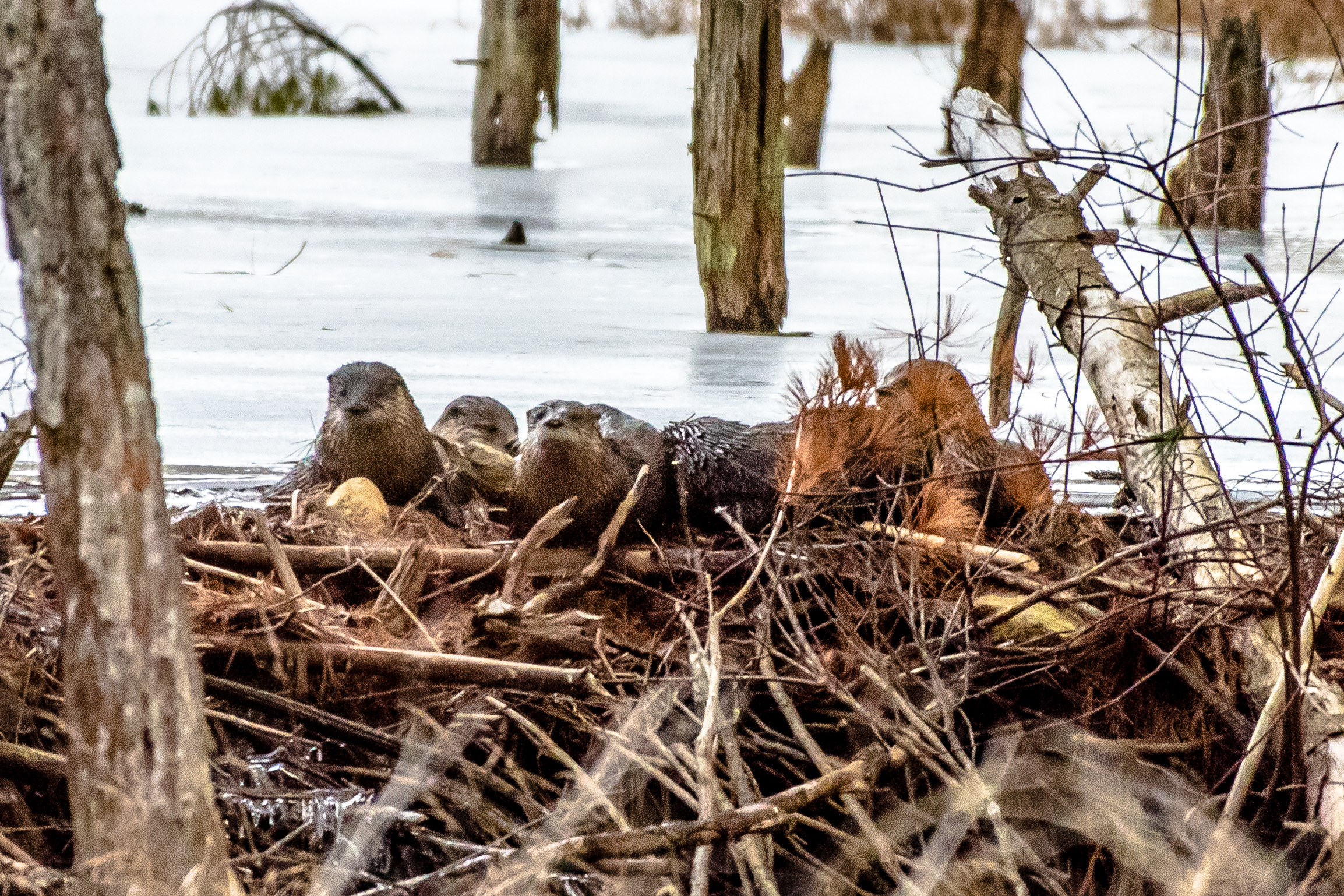 I took a family portrait of 5 river otters early this morning. Its always great fun to watch one or two but there was probably 2 adults and 3 young ones from last spring for a total of 5. What a blast! Did you know rivers otters have 1 million hairs per square inch of skin? Thats how they can keep warm in ice cold water. 2/23/16
Fresh fish for breakfast. Can you see all 5 otters in this photo? 2/23/16
Another day, another otter !
This otter almost ran up my leg as I was standing along side a swamp ! He came out of the water and didn't see me standing there. When he did he was 8 feet away and back in the water and starting snorting at me ! 4/15/15
Otter
Otter can be found in waterways and open water at Quabbin. They just love to play all the time. taken on 4/8/15
It seems lately everywhere I go I find northern river otters. I love these guys and could watch them and their antics all day. The just seem to appear, let me into a small portion of their day, and are gone as magical as they appear. Here's one of the couple I saw today. This pair I have seen a lot of as of late. 5/18/16
"I heard that shutter"
This otter heard the shutter go off as I was hiding behind a pine tree. He stopped eating and had to come closer to see what made the big pine tree go "click click !
The same otter as in the last picture...... 5/18/16
"Got any extra fish on ya?"
This otter popped up right in front of me ! He heard the camera as I took a photo when he was farther out and his curiosity got the best of him.
Otter
Another otter sitting by a hole in the ice he was fishing in. It would dive through the hole, catch a fish and return back to the surface to eat the fish. (taken 4/10/15)
Otter
Otter….Yummy fish ! Down the hatch 4/8/15
As I was watching this heron sitting on a mud and weedy patch in a swamp this otter popped up right in my viewfinder of the camera as I was looking at the heron !! That will NEVER happen again to me.
Here is the same adult otter as in the previous photo with three young ones peeking at me from behind in the tall swamp grass.
Ho Hum, another day, another otter
While sitting by a beaver pond this otter appeared fiercely fishing. Every time it surfaced it shook its head violently. I thought it would be fun to try to stop the action. 3/26/16
"mmmm, sushi ! my favorite ! "
I watched this river otter fish and then groom himself on a beaver lodge for about an hour. It was a great show. 3/23/16
Here is the otter relaxing on a beaver lodge after feeding on fish all morning. I love these guys!! 3/23/16
Something caught the attention of these three otters on the ice and even stopped one from eating his fish at Lake Mattawa in Orange, MA.
I was walking up a dirt road by a beaver pond early one morning in the fall and heard this racket coming from the outfall ditch from the pond. I spotted this otter going back and forth in the ditch fishing for small fish or frogs.
The same river otter looked straight at me and did not see me !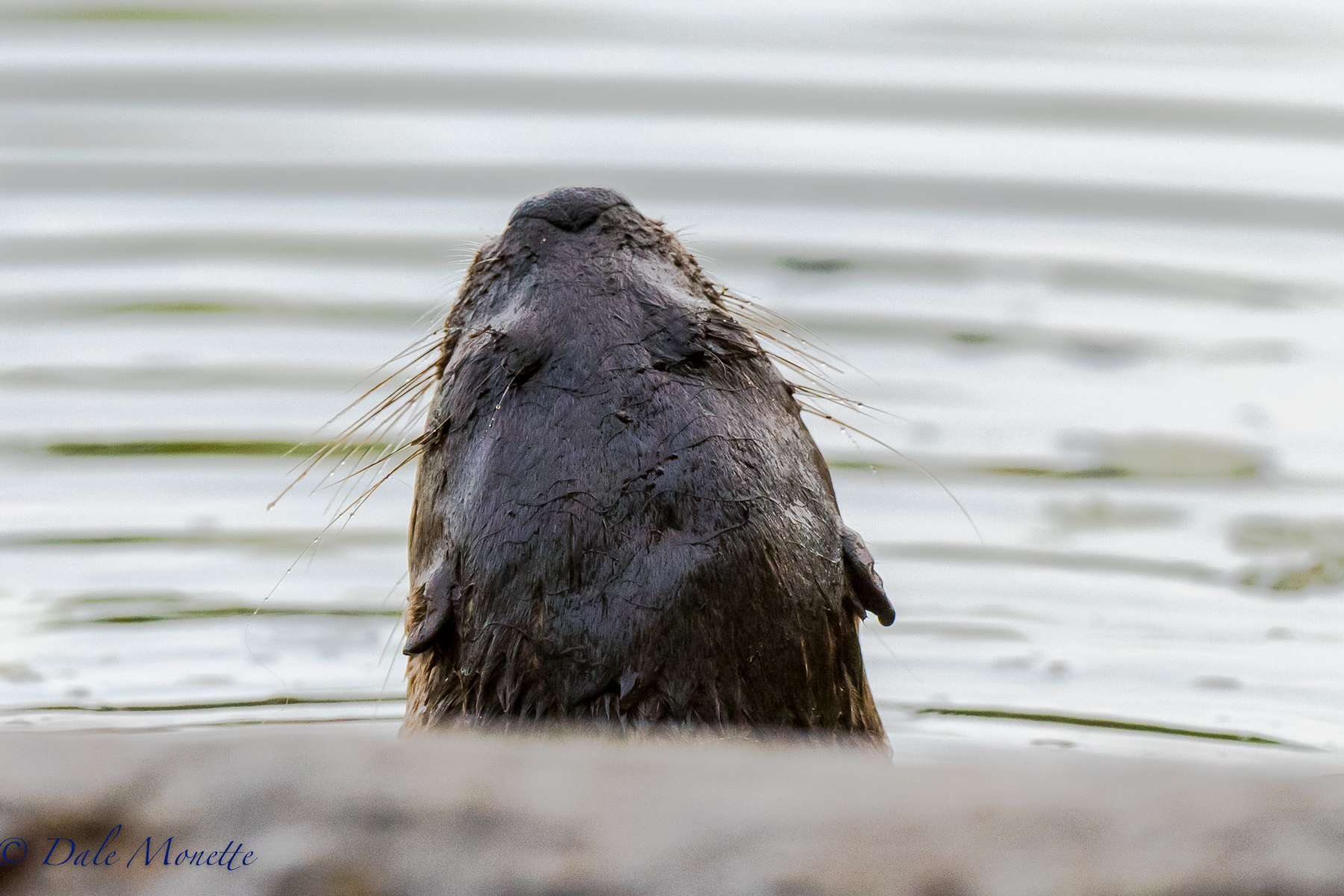 River Otters eat with their mouths straight up in the air sometimes to keep the fish from flopping out. This otter kit popped right up in front of me today and swam 35 feet in front of me and didn't see me up in the woods taking pictures of kingfishers. His back is to me here..... Never a dull moment ! 7/25/16
I was sitting on the shore up near the shoreline/forest line and had been there about 45 minutes when this otter came by. He heard the click of my shutter and turned around and came back to check it out. Ive seen them do this before as sometime their curiosity gets the better of them.
A northern river otter found me this morning. They are hard to see in the summer because they like to stay hidden in the lily pads. The click of my camera was to much for this ones curiosity and he just had to stop and check me out! 7/18/16
Landlord - tenant dispute......
I couldn't resist seeing if the otters were back this morning and they were arriving just as I was !! . I had a one hour and thirty minute show this morning !
Nothin like a "good ole wrasslin match" with a family member on the ice during breakfast. Notice the mouth full of teeth just below the otter on the right's neck !
I stumbled upon 3 more otters out fishing and playing this morning.
Of all the animals I seen in my travels I love seeing the otter because I know I will always get a good show. These 3 were intent on fishing and although they knew I was there, as you can see, they stayed playing , wrestling and fishing for about 15 minutes before moving on. 3/5/16
A northern river otter snacks on his mid morning fish. Looks deee-lish huh ? :) 8/3/16
Another river otter popped up in front of me today. You can see why they are hard to see in the summer. They swim just under the leaves looking for food. 8/3/16
It was cold and whipping winds this morning but this young river otter didn't seem to care as long as he had fish to catch ! 9/30/16
River Otter
A magic moment when this otter spotted me taking pictures along the shore of Quabbin and decided to take a closer look at what the clicking sound was. After he decided I was no threat he bid me farewell and went along his way. 11/29/15
"hey mister, ya got any fish?"
The same otter as in the last photo.... funny critters for sure ! 11/29/15
I found this northern river otter rolling in the snow after fishing for his breakfast in the Quabbin Reservoir this morning. I watched him for about 45 minutes. I love these guys and its always fun to watch them in their world. 1/19/17
This week has been a great week to sit like a rock, and it payed off........this otter decided he wanted to eat his fish almost on my boots....... 5/11/17
This morning I played another game of "hide and seek" with an adult otter and one of its young ones. The covered lots of ground in the pond. Finally they came in view long enough for a couple of shots. You can see the young one peeking up over the adults back. 8/2/17
(Now kids, this is how we jump off a log) I found this family of otters this morning exploring the beaver pond they were learning to fish in. Northern river otters always crack me up watching them and kits are even funnier ! 7/23/27
You never know what will pop up at a Quabbin beaver pond. This otter stuck his head up in front of me with a crayfish in his mouth. 7/17/17
Every now and then a northern river otter appears as if by magic to check me out 8/10/19
After many hours of watching and photographing these beavers it finally happened ! They gave me the tail :)
This river otter shows up every day at the same time through the same part of the pond, The breakfast menu today was frogs !,,,,,, 8/26/17
Nothing like a good roll in the dry grass and warn sun! This is the same otter as in the next picture about 2 weeks later. I had fun watching this guy for about 90 minutes or more fish and groom.... 4/6/18
After watching this otter fish for about an hour near the back of the pond, he finally got within range of the Nikon 500mm lens... and Bingo ! I love these guys.......
An otter and a beaver both popped up in the same space this morning. After a few screams from the otter, the beaver headed home after a long nights work…..
River otters are fun but hard to get close enough to get decent pictures.
I watched this otter at Quabbin for 40 minutes driving fish up and down a small beaver pond drainage. He was so intent on catching fish I thinks he saw me but figured I was not a threat to him and he kept on fishing. 10/24/15
Breakfast at last. I wouldn't want this otter clamping onto my fingers with those teeth. ! 10/24/15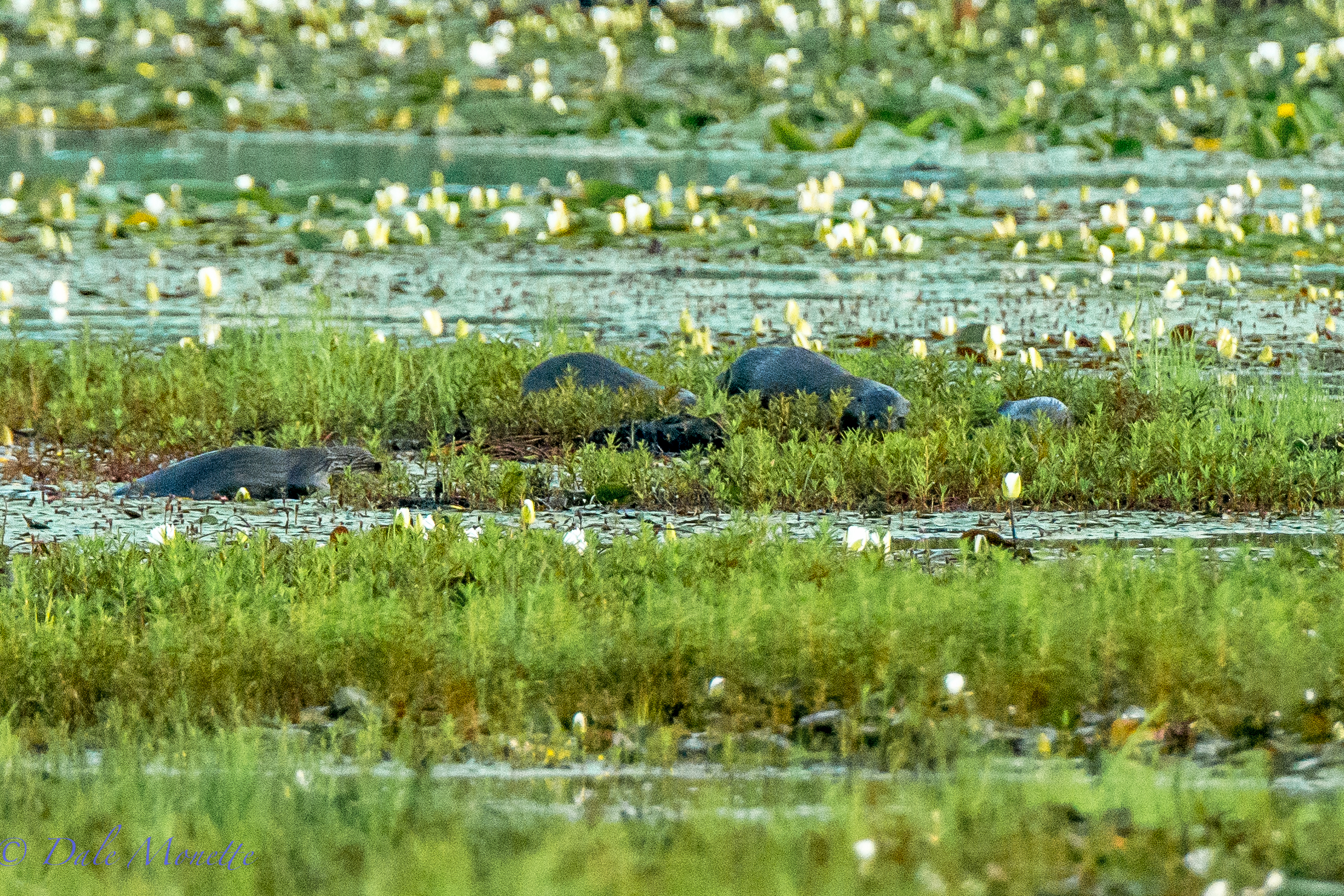 "The're baaaaack !!"
Today I had a front row seat to the adult otter and three kits while they romped about the swamp for three hours in front of me. Trying to get pictures was like trying to herd cats! They are sly little devils spending most of the time running over each other and staying low in the swamp vegation. 8/3/15
Mother Nature 1....Me 0
Every now and them wildlife will test me! Today I failed. I was creeping quietly along the shore of Quabbin about 6:30 AM when I saw what I thought was 3 ducks 100 yards ahead of me coming my way. I went into my stealth mode and crept up along the tree line. Finally when I got close enough I discovered they had found me also. Three otters!.... It didn't take them long to dive, swim away underwater about 150 yards and head for the trees..... 11/8/15
I had been waiting for an otter to pop up in front of me on this stump for almost 3 years! Finally I had this male who was fishing show up with a small horned pout he had just caught. I was ready with the camera and caught him just as he surfaced, hopped on the stump and shook the water off of his head in a split second….. 4/24/18
Can you tell I like otters ? Northern River Otter, Quabbin watershed, 4/26 /18