Here's the King !! Looking right at me. Those yellow eyes just cut through me....10/17/17
I watched this coyote for about 90 minutes on and off this morning hunting the Quabbin shoreline. With patience, I finally had him about 40 yards in front of me hunting mice. He was so into it I dont think he was to concerned I was there in the woods..... this was an awesome experience ! 10/17/17
"Bye......... Im taking my lunch with me"
On my hike about the western Quabbin I found a pack of 6 coyotes going somewhere along the ice. Where they were going I know not.....
I found this young coyote today playing with his food in a cow field in New Salem... 4/6/16
He was having a great time with this vole... I suspect this guy was a year old. It was fun to watch.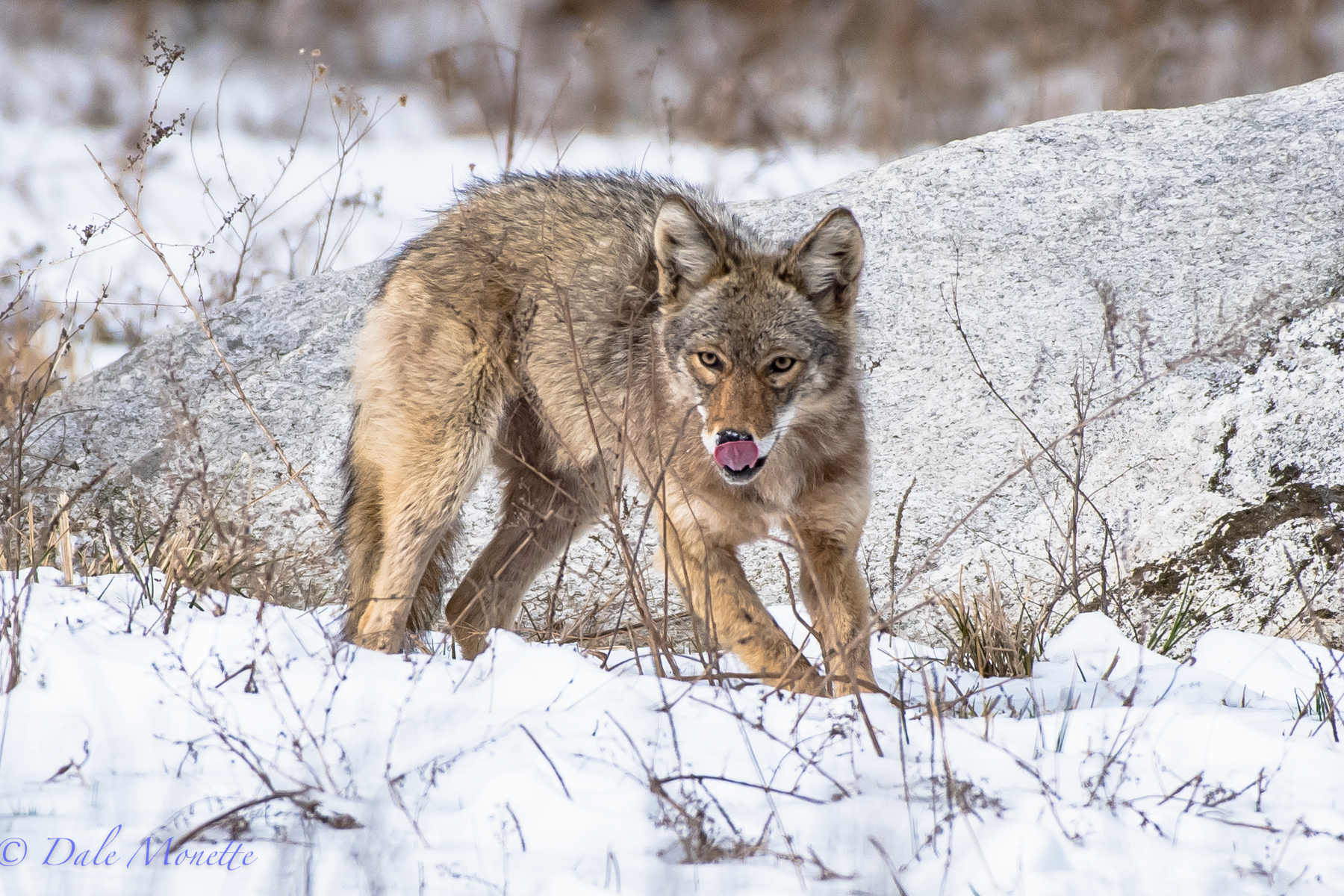 Last spring I watched this coyote catch and play with a vole in a big field. I didnt see this tongue out until after I got home !
"I'm going to eat in peace! "
A very intent stare from this eastern coyote who was trying to see where the "click" was coming from in the woods along the shore of the northern Quabbin Reservoir 1/2/17!
"I'm leaving but not taking my eyes off of you"
This morning I was driving down the road and saw this large red dog bopping along on the opposite side of the road. I pulled over to get a better look and a car went flying by as it ran into the ditch. It hopped back up out of the ditch and continued down the road and it went right by me. It was a healthy red pelted coyote ! 11/17/16
A pair of coyotes take off running through a snow storm across the ice at Quabbin.
A Quabbin ghost ! A pair of coyotes came in to me out of the fog this morning as I was set up on the edge of a large field and started catching mice. It was barely light with lots of fog and they just appeared out of the fog ! 10/3/16
I sat for over an hour on the shore of Quabbin this morning. Finally this beautiful coyote came trotting along on one of the islands, It was worth the wait! 5/14/16
Heres a coyote running down the middle of RT 122 in New Salem, MA. This is an iPhone 6 from my car....
This coyote snuck right by me with a squirrel in his mouth this morning. He was with 2 others that were fast as the wind.
At sunrise this morning I heard coyotes howling, two hours later they appeared along the shoreline crossing the ice. Its always a great thrill to see them ! 2/21/17
This morning after an hour and 20 minutes I spotted this eastern coyote slinking towards me down the shore of the Quabbin. I was hidden in the woods. 1/14/17
And here he is......50 yards from me ! He thought about it for a few minutes and wandered up into the woods..... awesome !
After spending 3 to 4 hours a day for the last week freezing my butt off while waiting for coyotes to drop by, I finally hit pay dirt this morning. Two eastern coyotes racing like the hammers of hell down the distant shore of the Quabbin. Alway fun to see even if the photo isn't the greatest quality! 1/11/17
I was having a great gray owl withdrawal syndrome attack this morning so I decided to hike into coyote-ville. After a hard 50 minute hike I arrived and within 2 minutes number one appeared way out on the ice. After another 1.5 hours of waiting I spotted a mated pair up the shoreline. I thought they would walk right in front of me but they thought different. 3/21/17
I played hide and seek with the mated pair of coyotes at Quabbin this morning. I won !! Here is the female coming down to the water to drink. I had quite a show for about 90 minutes before they finally wandered off. A great day was had by all !!
Nothing like a good clean cold drink of water!
I saw the 2 coyotes this morning I have been seeing all winter. They couldn't get away from me fast enough ! I was behind a patch of phragmites...... 4/10/17
Peek-a-boo ! heres the second one......
I was surprised this morning by this bobcat way across the channel walking along the ice! You never know what you will see at the Quabbin ! 1/20/17
I hiked in to the northern Quabbin in 6 degree F weather this morning, set up hiding in the woods, and BINGO ! Withei 45 minutes this bobcat walked out about 100 yards south of me with a squirrel for breakfast !! 12/11/16
Here's a shot of a bobcat heading for his spare ribs dinner at the Quabbin. 1/4/17
I watched this bobcat feed on a deer carcass on the ice today for about 2 and a half hours. It was quite an experience ! 1/4/17
The same bobcat wandering around the ice taking a break from feeding. A beautiful cat to say the least! 1/4/17
"Sorry Dale, I'd like to stay and chat but I'm hungry"
I was wondering where the bobcat went I saw dragging the squirrel last November when all of a sudden it appeared ! It was on a mission. Here it's trying to find out where the clicking noise is coming from even though I had my camera on the "quiet mode" setting......
A hungry bobcat came creeping along the edge of an old beaver dam as I was watching it for any critter that may be around. It took me by surprise to say the least ! What a beautiful animal 7/16/17
The bobcat stuck its head back out of the bushes to try to figure out who was watching it?.....
About 6 weeks ago I took some pictures of a bobcat at 8AM on a Sunday.... I took my trail camera and locked it to a tree about 2 weeks ago right where I saw the cat. Here is an image that was on the camera this morning !! Note the feet on this cat.... 8/30/17
You never know what to expect at Quabbin. As I was about to leave this morning a bobcat walked across the ice in front of me! 2/23/16
And the foxes again about to run off the ice and into the woods as they got closer to me. 1.30/16
This male bobcat came running down the road right by me as I was waiting for more coyotes to appear, I'll take it !!
This is the 5th year in a row I have seen this coyote on the same spot! I call him Patch because he has a black and white patch on his back that is a giveaway that its him.
This image was made 14 hours later then when I first visited this deer carcass on the ice late in the afternoon yesterday (next image). I waited for 3 hours in the woods watching this rib cage which was all that was left before a different coyote than was here yesterday appeared and started scrounging what was left of the doe carcass.
A lone coyote stands over a white tailed deer carcass he and his pack probably brought down on the Quabbin ice. Coyotes do not kill for fun and they only take wounded or sickly deer for food. Every speck of that deer will go to feeding eagles, bobcats, ravens, crows and coyotes. When the venison is all chewed off the bones, the coyotes will drag them into the woods to crunch on. It's gruesome , but its nature.
All the noise of the ice cracking kept this coyote pretty nervous while feeding on the deer carcass until finally it left running.